Gift & Home Channel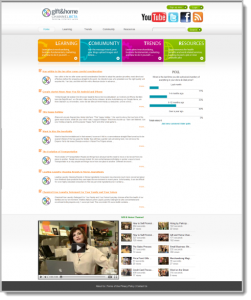 Gift & Home Channel:
As the first web/TV internet channel focused on helping independent retailers succeed, the Gift & Home Channel offers the tools, on-demand problem-solving resources, and small business solutions that independent store operators and their staff need to succeed and thrive.
The Gift and Home Channel is a community-building initiative that combines the resources of small business specialists, leading trade magazines, giftware suppliers, and their sales agents to help independent retailers across the U.S. compete, grow and prosper.
In this challenging economic environment, it is more difficult than ever for independent retailers to build and grow their business. There is no need for them to "go at it alone" because at the Gift & Home Channel we sincerely believe that our business IS helping independent retailers succeed in their business. We can help do this by offering a "Daily Dose" of our "Results From Day 1" business driving content, industry expertise, and advice. We also offer "Start Your Day with GHC:" a plethora of timely, trend-driven, softer side content that can help ensure that, among other things, independent retailers have the right merchandise, at the right time, at the right value, for their customers.
"With the launch of our new Web 2.0 site platform, we can now also offer independent retailers an enhanced user experience that includes better navigation, improved site search functionality, and personalized highly-relevant content recommendations based on user registration page selections.

Additionally, cleaner crisp categorization helps to enable more direct search solutions to find what users are looking for in three clicks or less. Clearly organized, home, category, and community pages make navigation a breeze."